How to Change Name Servers with 1&1
While HostGator cannot modify domains at third party registrars on your behalf, we can provide you with instructions on how to do so. Here's how you can change your domain settings at 1&1 (1and1).
 
We always strive to make sure you have the most up-to-date information, 1&1 is a third-party, and the steps below may change without us knowing.
Step 1. Log in to the 1&1 Control Panel using your Customer ID OR domain name and your password.
If you have only one package, you will land on the Administration page. If you have more than one package, select the package in question to reach its Administration page.
Step 2. Click the Manage Domains link from the Domains panel.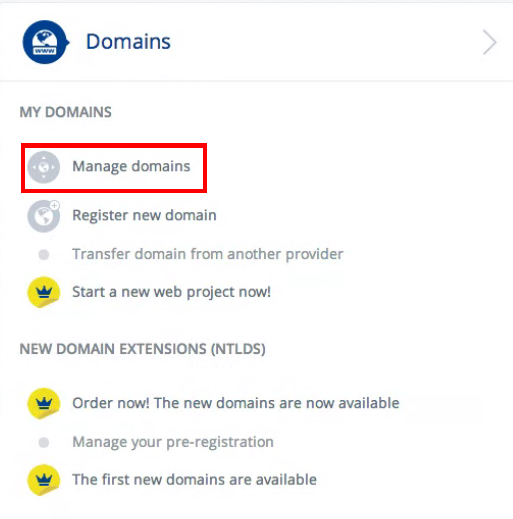 Step 3.
 Check the box next to the domain to select it. Click the
Domain Settings
tab and select
Edit DNS settings. 
Select a domain and choose Edit DNS Settings.

Step 4. On the next page:
A). Enter the Primary name server address in the Name Server 1 text box.
B). Select backup name servers from the Additional name servers drop-down menu.
C). Please note that the Additional name servers act as a backup in the case of an outage by your primary name server, which will result in traffic being directed to the IP address of your Additional name servers. 
Step 5. Select Save to confirm your changes.
 
Please note:
Once you have made changes to your domain at the registrar, there will be 24-48 hours of
DNS propagation
time during which your website and email may not be available.
Note: For additional assistance, please contact 1&1 directly. Our support can only provide the information shown here.