How To Add And Manage Blog Posts
Since blogging is one of the many ways you can reach out to your customers, you may want to become familiar with all the ways to manage your posts.
Posts
are the articles or pages of a blog that are created individually within the blog. If you're not familiar with how to add a blog, you can learn how to do so here: 
How To Add A Blog
.
In this article, we will discuss the basics of
How to Manage your Blog Posts
; including
Creating
 and
Organizing
 them. If you do not have content to add to your blog yet or need help getting started, we recommend reviewing the default articles that are present within your blog when you first add one to your page.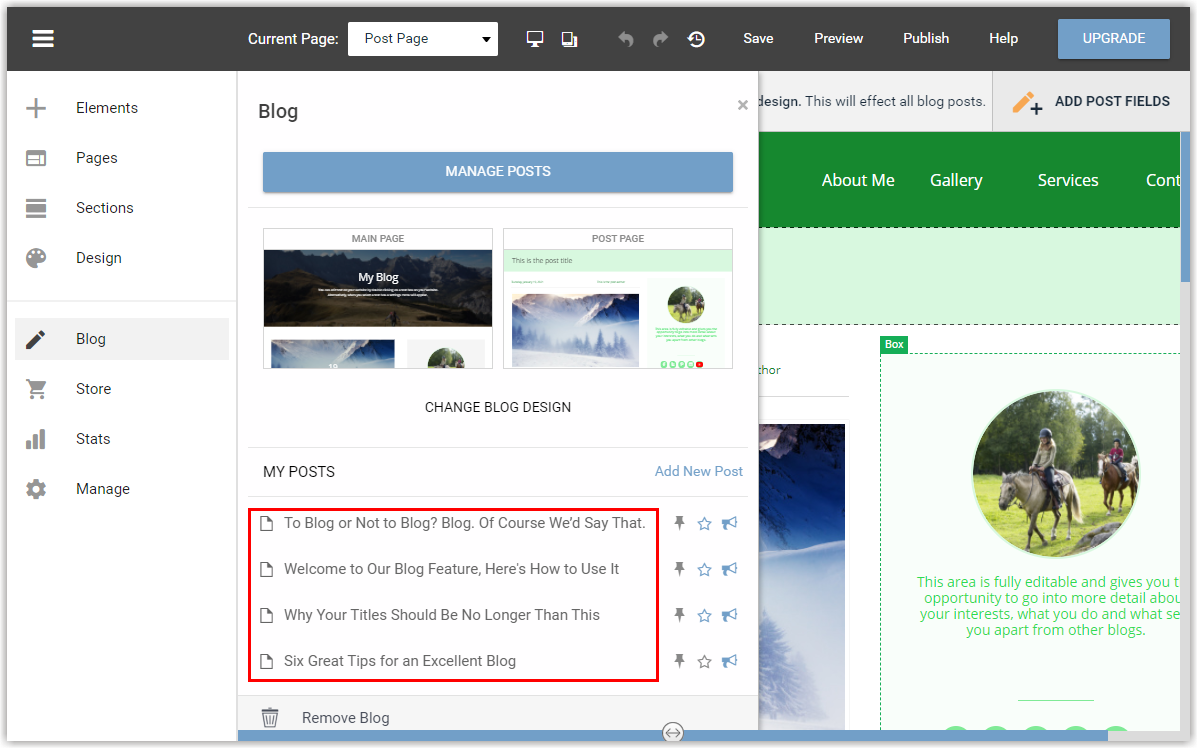 ---
Managing Your Blog:
After you have created a blog, you can manage it by following these instructions:
Start by clicking the Blog button from the left-hand menu of your main design dashboard.

Click Manage Posts.

On the left-hand side, you can filter your posts by different categories. All, Pinned, Featured, Published, and Drafts.

Under each post, there is a More button. Within this button, you can Pin a post, toggle Featured Post on and off, and Duplicate a post.

The icons on the upper right of a post have mostly the same capabilities. You can toggle on and off the Pinned post and Featured post.

You can also Unpublish a post. There is a difference between unpublishing a post and deleting a post; an unpublished post can be republished at a later date. A deleted post is gone for good.

To Preview, Edit, or Delete a post, simply click on the corresponding button at the bottom of the desired post.

 


Pro Tip: If you have not saved your site before clicking on any of these features, you will be prompted to save the site before continuing. Click on Save My Site in the pop-up and continue your work.
 

All of these features are also available from the main blog page.


Pro Tip: If you don't make any customizations, each new blog post will automatically publish at the top of your Main Page. Check out the Organizing Blog Posts section below to learn more about how to organize how your posts appear. 
 
---
Create New Post
To create a new blog post, follow these steps:
Select the Add New Post from the Blog menu or Create New Post from the Manage Posts Section.

 

A new Post Creation Page will appear: Here you can add your titles, change dates, add authors, add tags, and format the post text.

Click Preview Post to see what your post will look like.

Click Save Post to save your post to the selected status.

 


Pro Tip: Adding tags to each post will help your readers navigate to the content they love more quickly. If you click Advanced Options, you will be able to create post summaries, letting readers consume your content when they decide which post they want to read, especially as you add more and more posts to your blog. To learn more about blog tags check out: Adding Tags to a Blog Post.
 
Organizing Blog Post
Your website builder will organize them by date in the post order when creating a blog. Whenever a blog post is made, it shows with the most recent post at the very top of the "post" page and then the older ones at the bottom.
You can use settings like Pinned Post to bring a post to the top of your list.

Or use Featured Post to display the post up front.

If there is more than one page of posts, the newer posts will appear on Page 1 while the older ones will be on Page 2 or Page 3 etc.