HostGator's S.W.A.M.P.
HostGator S.W.A.M.P is the System for Website Assessment Managed by Proxy technically a caching DNS proxy server.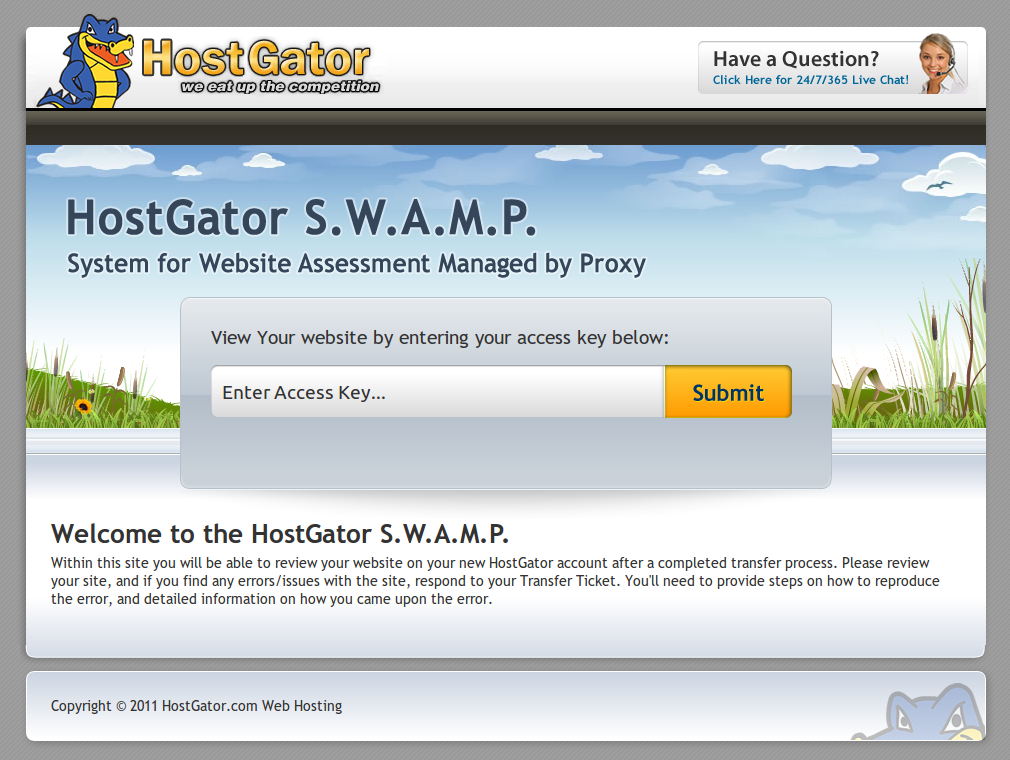 What is the Purpose of S.W.A.M.P.?
S.W.A.M.P. is offered by HostGator to assist you with your website transfer. With S.W.A.M.P., you can preview your website(s) without having to point your domain or change your DNS to the server where your new account is hosted. S.W.A.M.P. enables you to manage your domain without having to modify it to work via traditional methods (such as editing your hosts file on your own computer).
While these traditional methods will still work for your site, using them often causes more work further down the road, such as editing system files to restore your hosts file if you ever make a DNS change to your domain. None of this is necessary with S.W.A.M.P.! Even better, S.W.A.M.P. also enables use of custom .htaccess RewriteRules to modify the URLs of your site, so you can have SEO-friendly links working before you "go live."
Note: HostGator does not guarantee that your site will work with S.W.A.M.P. We only provide this tool to assist you in the transfer process. Some more complicated scripts and sites may require you to use the aforementioned "traditional methods" to preview your site, such as editing your hosts file.
How Do I Get a S.W.A.M.P. Access Key?
The access key to use S.W.A.M.P. will be provided to you by our Migrations department once the transfer of your site has been completed. Once all of your site content has been moved to your new account, we provide you with a unique key to view your websites. We ask that you carefully examine your site for any issues or problems that may have occurred during the transfer.
Currently, the S.W.A.M.P. access key is valid for a period of ten (10) days. This should be enough time to preview your site and ensure that it is working as you intend and expect. If for any reason you need more time, please just let our Migrations team know and we will generate a new key for you.
I Have My Access Key. Now, How Do I Use S.W.A.M.P.?
Once you receive your S.W.A.M.P. access key:
Go to http://swamp.hostgator.com/.
Enter your key into the field in the center of the screen.

When you log in, you are presented with the S.W.A.M.P. landing page which includes:
In the center, we outline some easy steps to make sure your newly-transfered website is working correctly.
The left side of the page is the navigation menu which includes:

Your new server's nameservers (which you will use to point your DNS to the new server)
"Drawers" for your user accounts (it will display multiple drawers if you have a Reseller package: one for each user transfered). Each drawer contains one (1) cPanel worth of domains: the primary domain and any addon domains or subdomains that you have added to that account. To preview any website, click the link for the domain you wish to view.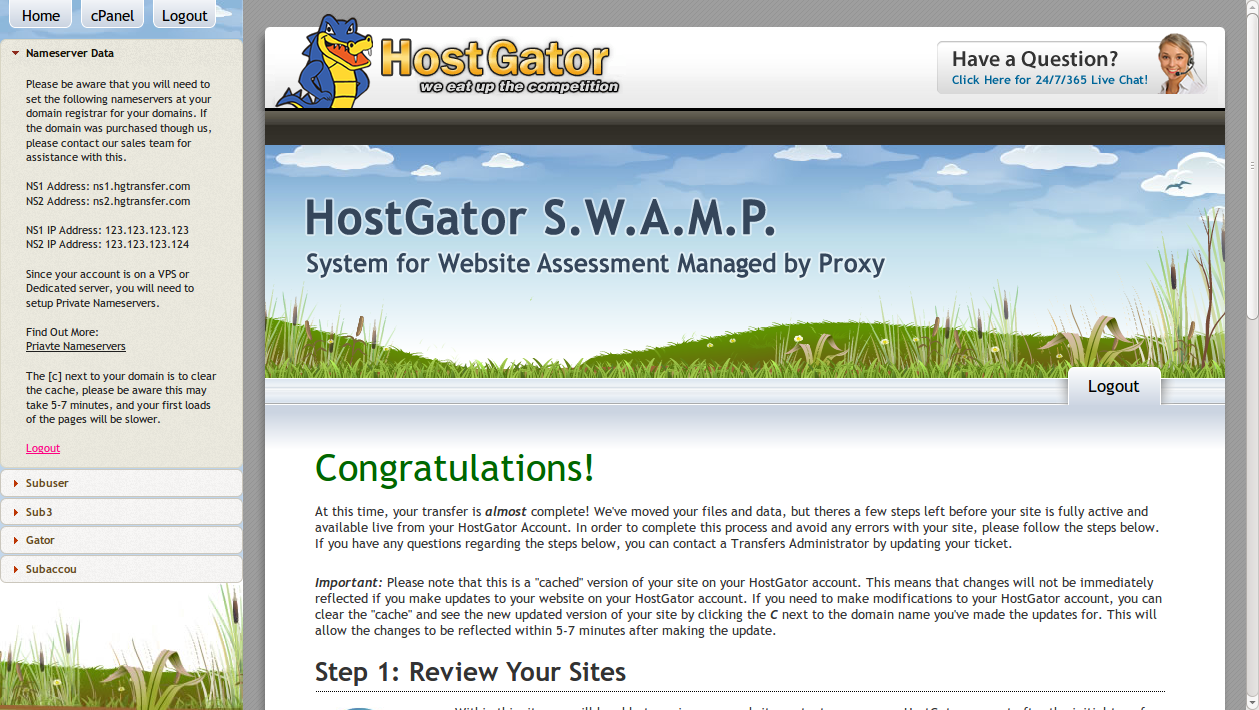 How Can I Preview My Website?
When you click on the link for your domain from a drawer, the center section of the page reloads with the current version of your website as it is on your new account. The URLs used are the full URLs of your domain. For example, for a WordPress installation using the URL http://testdomain.com/hello-world/, WordPress uses RewriteRules to make the URL SEO friendly; and S.W.A.M.P. will process this correctly, creating the "/hello-world/" page exactly as it's intended to look.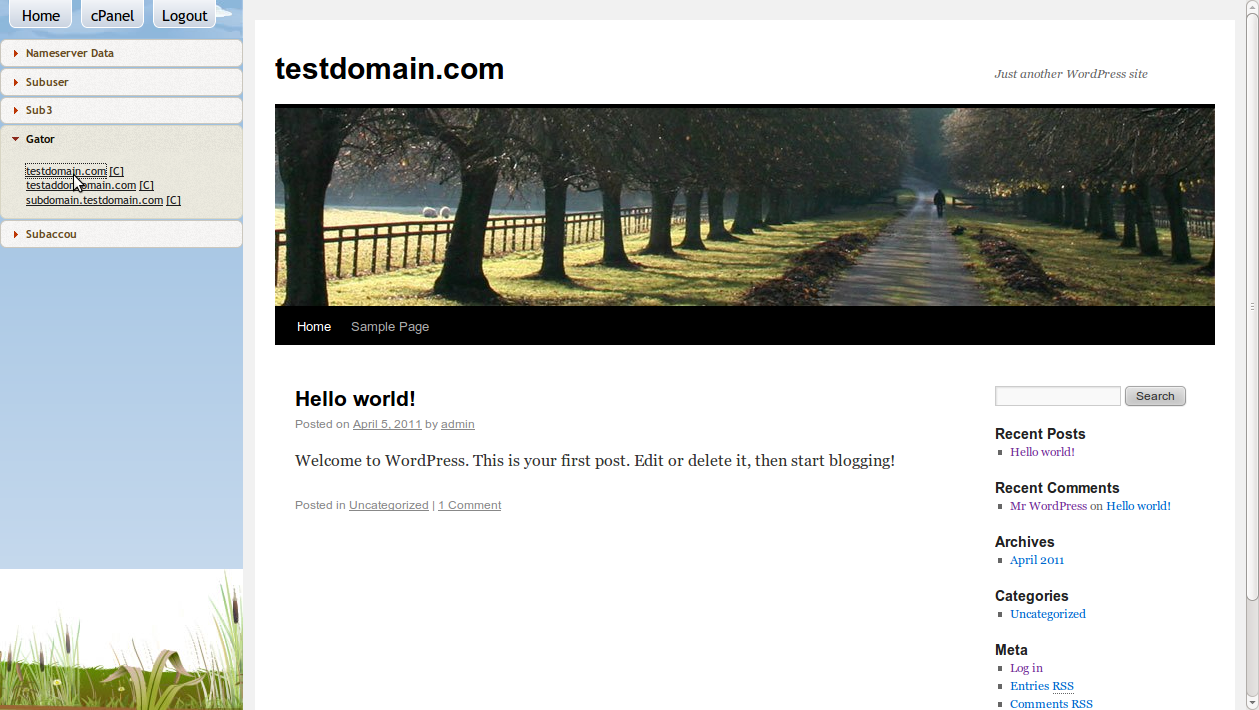 The Change I Just Made to My Site Does Not Show in S.W.A.M.P.
S.W.A.M.P. is a caching proxy. That means that a "snapshot" of your site is saved by S.W.A.M.P., and that's what you see when you access it. To refresh the cache, simply click the [C] that is next to the domain in the navigation menu on the left. Any updates you made recently should appear when you click the domain link again.