HostGator Marketplace
OH SNAP! This article has been deprecated.
Marketplace no longer exists in HostGator's new cPanel. We do recommend accessing HostGator Softaculous Auto-Script Installer article for more information on installing apps through Softaculous.
HostGator Marketplace is a flexible and powerful script auto-installer available on all of our shared cPanel accounts through Paper Lantern. Our Marketplace is much more than a script installer, though, featuring a one stop location where you can purchase professional themes, plugins, and other services for many of your favorite self hosted software solutions.
You can even purchase SEO services, installation, design, and security services, all with just a few clicks right from within cPanel.
To get to the Marketplace, click either Website Essentials from your left sidebar, or the Marketplace icon in the Popular Links or Essentials sections: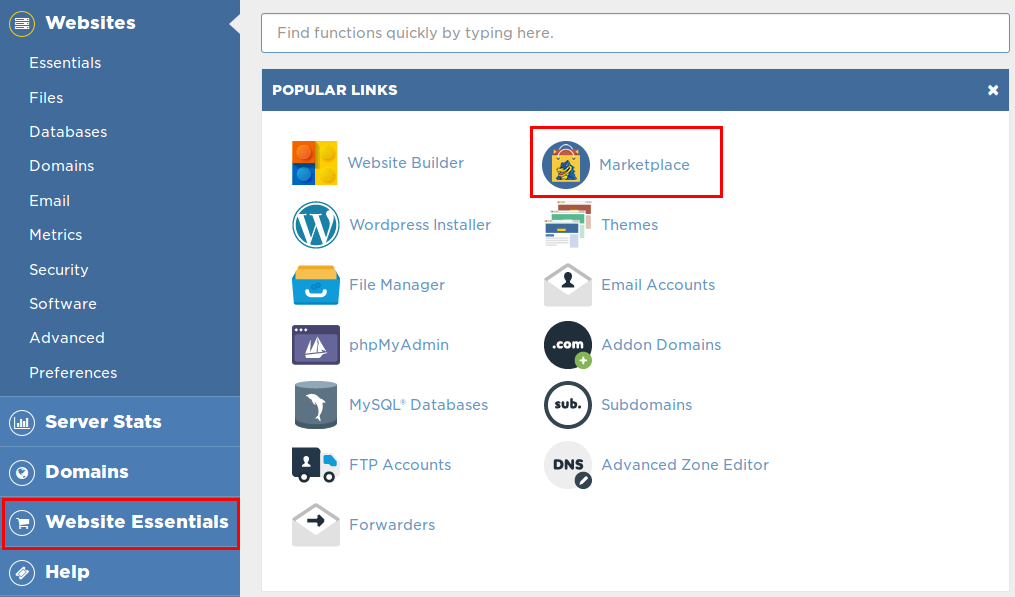 Check below for more information about how to perform the following actions in the marketplace:
---
Installing Software with Marketplace
The marketplace has a wide variety of free self hosted software that you can install in just a few seconds to build websites, forums, galleries, chat rooms, project management programs, or self host many other self hosted tools.
To install one of the many scripts available through Marketplace:
Click Website Essentials from the left hand menu.
Click One-Click Installs.
Here you can browse the available software. Popular installs will be featured on the front of the page, and you can browse all software by category on the right hand side of the page.
Click on the name of the software you wish to install (Example: WordPress).
Select the domain and subdirectory you wish to install the software to and click the Next button.

Note: If you wish to reach the site with just the domain, leave the directory blank.

Fill out the options required by your new software, agree to the terms of service, then click the Install Now button.
Marketplace will install your new software, then provide you with a link to the installation, username, and password at the top of the page.
---
Purchasing Marketplace Themes, Plugins, and Professional Services
From the left hand side menu select Website Essentials, then you can select the type of products and services you wish to purchase:
Themes & Designs
Plugins
Professional Services
Web Essentials
For plugins, themes, and other platform dependent purchases, you can browse specifically for your CMS or other relevant software using the links in the top left corner next to your shopping cart. Then, to purchase:
Select Add to Cart next to any products and services you wish to purchase.
Click on the shopping cart icon in the top right corner:

From the checkout page you may add recommended Add-Ons, which may further improve your hosting and site management experience.
Click the Checkout button to continue.
Select your method of payment, agree to our Terms of Service and Service Agreement, then click the Pay Now button.
Your order will now be complete! You will then be able to use any products or services which you have purchased.
---
Manage Marketplace Installations
You can reset your admin password, navigate to your admin page, or uninstall your software installations directly from within the Marketplace. To do so:
Click Website Essentials from the left hand menu to navigate to the Marketplace.
Click My Installs to navigate to your installs page.
From here, you can take any of the following action:

Click Uninstall to remove a specific piece of software.
Click Reset Password to have the Marketplace reset your password.
Click Admin Login to take you to your login page.