Email Trace
OH SNAP! This article has been deprecated as Email Trace is no longer available in cPanel.
You may find the following articles helpful if you are having issues sending or receiving emails.
cPanel's Email Trace icon is intended for troubleshooting email routing issues. With this tool, users can pinpoint problems with their email delivery by tracing delivery attempts and routes with the click of a button.
To search email delivery attempts with Email Trace:
Log into cPanel.
In the Mail section, click the Email Trace icon.
Enter a recipient email address in the search box.
Click Run Report.
The results will then appear in the form of the Delivery Report table ⤵ and the Email Server Trace diagram ⤵.
Delivery Report Table
This table displays the results for the email query and sorts it into various columns that can be customized by using the table options button in the upper right hand corner of the table. By default, the columns are set to display the following:
Event contains icons that indicate a message's delivery status.

Sender defines the email address that sent the message.
Sent time defines the date and time that the message was sent.
Spam Score is a numerical value based on the number of spam-related traits found within the message.
Recipient defines the email address to which the message was sent.
Result provides the status of the message's delivery.
Actions allows users to view and print details about the selected message, including the message's sender, recipient, username and more.
Email Address Trace Diagram
This diagram within the Email Trace feature will display the delivery route of the sent email, from web server to server.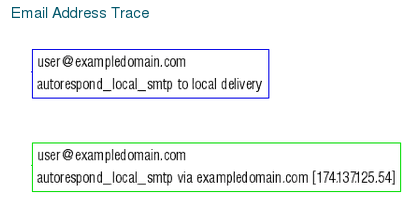 The icon legend underneath the diagram will indicate what error, filter, destination or local mailbox was encountered while the email was en route.