Customer Portal - Manage Packages
Within your Customer Portal, you can manage all of your hosting packages. In this guide, we'll show you how to locate your hosting package information, including your package status, account username, plan type, IP address, server name, plan price, renewal date, and login URL. We'll also show you how you can also enable shell access, reset your cPanel password, and update your primary domain from within this area of your Customer Portal.
If you cannot remember your password, click on the Forgot Password link below the login area, then follow the instructions emailed to the primary email address on file.
View Hosting Packages
Once you log in to your Customer Portal, you will land at your main dashboard with quick-access options to manage your packages in the Customer Portal or jump directly into your cPanel. Here you can click on the Manage Package button to jump to that package's dashboard.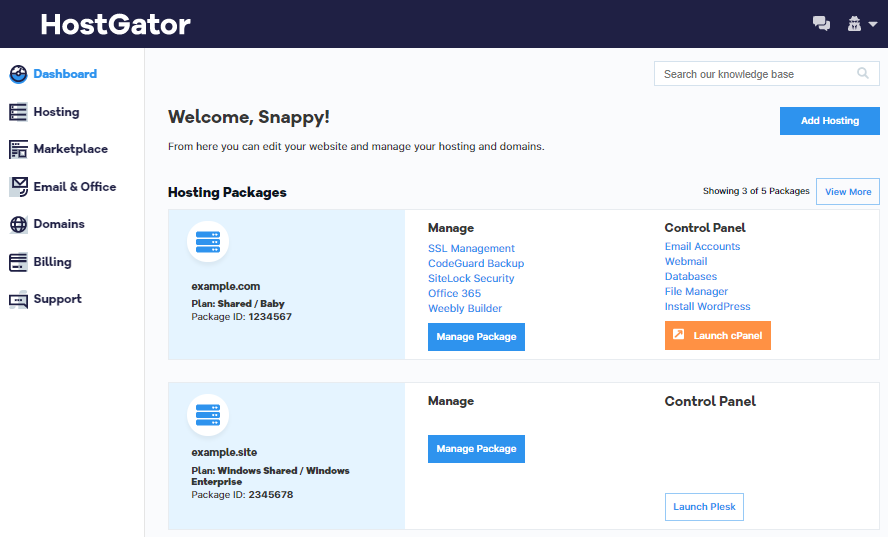 If you have more than three (3) hosting packages in your account, you can view all of them by clicking Hosting on the left-hand menu.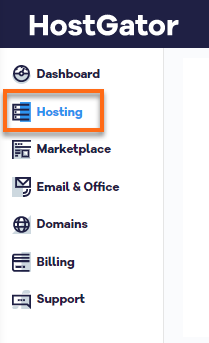 ---
Filter Hosting Packages
You may use the Search bar at the top of the Packages page to filter the packages shown or find a particular package.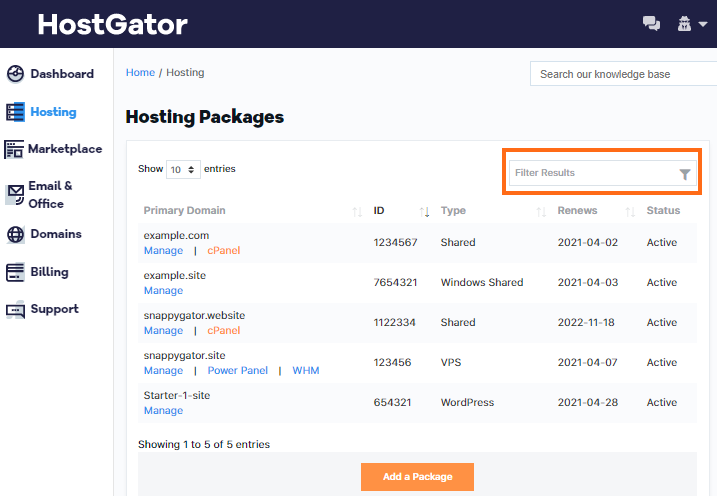 ---
Manage Hosting Packages
If you click Manage underneath any package, it will take you to the page where you can manage most aspects of that hosting package.
Along the top of the page, you will find:

Primary Domain
Package ID
Plan Type
The next billing renewal date & how much will be charged.
Name servers (To view them, click the question mark (?) next to NAMESERVERS)
Below that, it has three tabs - Overview, Settings, and Billing. Depending on your package type, you may only have the last two, and that is because certain packages (Dedicated hosting, Reseller, VPS, & Windows) manage these settings directly on the server.
Overview Tab
This is the default tab you'll land on when you want to manage your package. Across the top of the page are shortcuts to functions within your cPanel. Below them are tiles for the various package addons that HostGator offers. You find out more about these addons and purchase them by clicking the Learn More buttons. If you have an active subscription to any addons, the button will say Manage and allow you to see the subscription's details and manage it.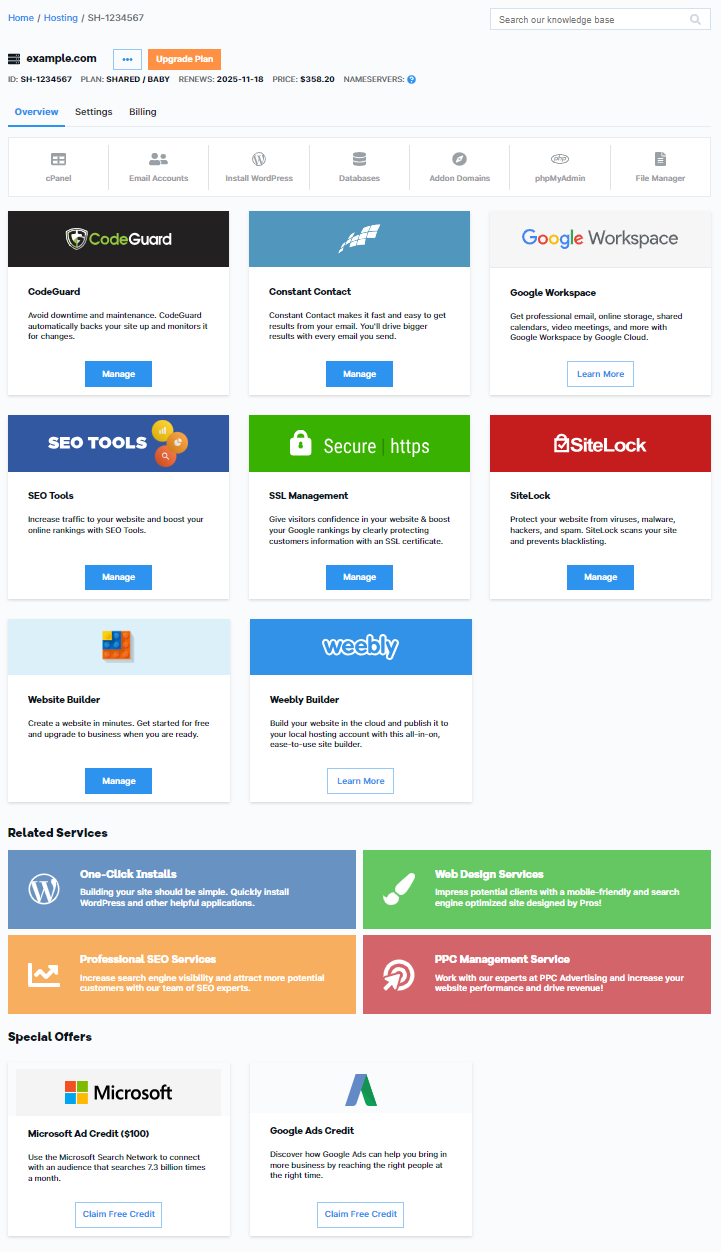 Settings Tab
The Settings tab displays your information about your servers, such as the name, cPanel username, IP address, the name servers for your package, and more. On the right-hand side, it gives you options for resetting your cPanel password, changing your Primary Domain, enabling shell access, and then the link for requesting a migration.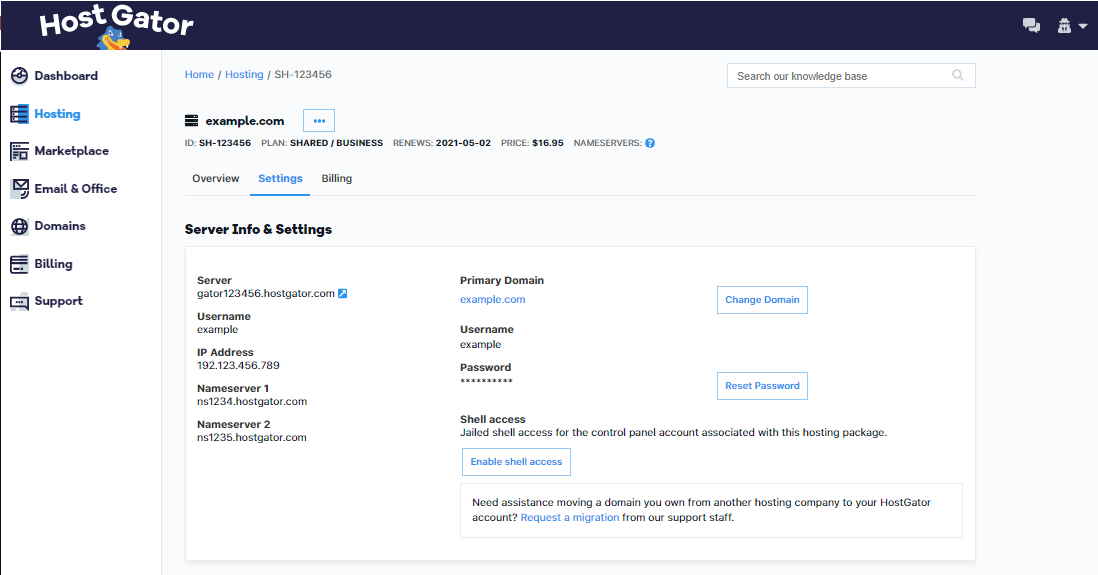 How To Change Primary Domain Name
You can host multiple domains on most packages, and it is not necessary to change your Primary Domain in most instances. However, if you still need to, we've created this guide to walk you through the process: Customer Portal - Change Primary Domain.
How To Reset cPanel Password
If you need to reset your cPanel password, you can do so by clicking the Settings tab and then the Reset Password button.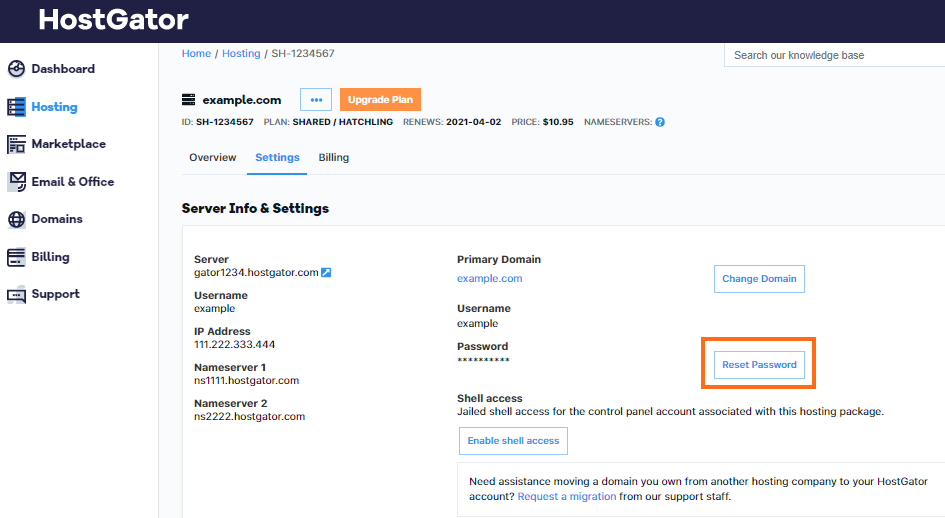 Please check out this article for detailed instructions on how to reset the cPanel password.
How To Enable Shell Access
Depending on your hosting type, you can enable SSH access. Here is an article that will guide you on how to do so.
Billing Tab
The final tab is the Billing tab. This is where you can see information about the package type you have, when the next billing cycle is, how much will be charged, and this is where you would cancel your package.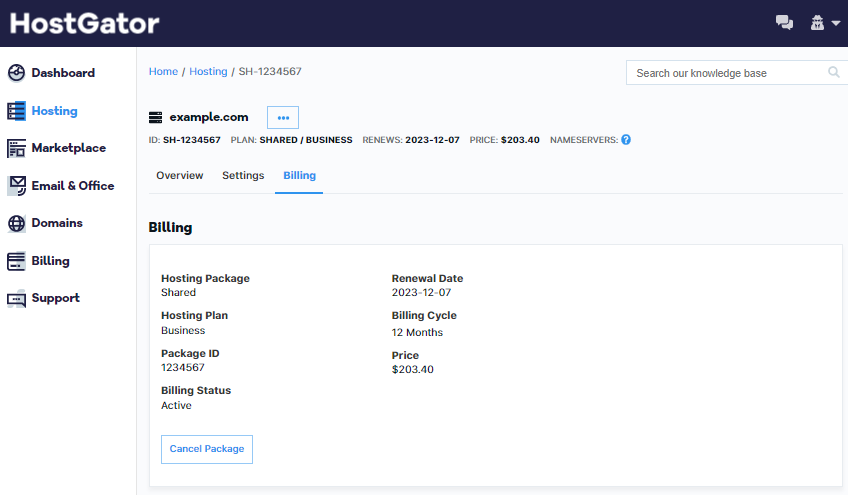 For detailed instructions on how to cancel your hosting package, please visit the article: