Creating Store Discount Codes
Discount codes can be a reason potential customers commit to making a purchase. A large number of online shoppers today include searching for a discount in the process of online purchasing, so it only makes sense to make it easy for your customers to find and use discount codes with your Gator store.
In this article, we will cover how to go about creating and using discount codes from within your Gator store. To learn more about how to add products, check out: Managing Products
---
Activating Discount Code:
Begin within your Store management home page.

Scroll to the left-hand menu and select Advanced Features.

Next, locate the Discounts area. Flip the slider to Active, and you will see the Discounts option appear in the left-hand menu.

Select the new Discounts option from the left-hand menu. (You will see the Create New Discount Code screen if this is your first code.)

Select the Create New Discount Code button to begin filling out the details of your discount. Please note: Codes and discounts expire at 11:59 pm UTC for the date you select.

Once you are finished adding the details of your discount, hit Publish at the top of the page and you will land on the Discounts main page.
That's it! Customers can now use your code at checkout to receive a special deal! You can manage all your different codes from the
Discounts
main screen within the left-hand menu.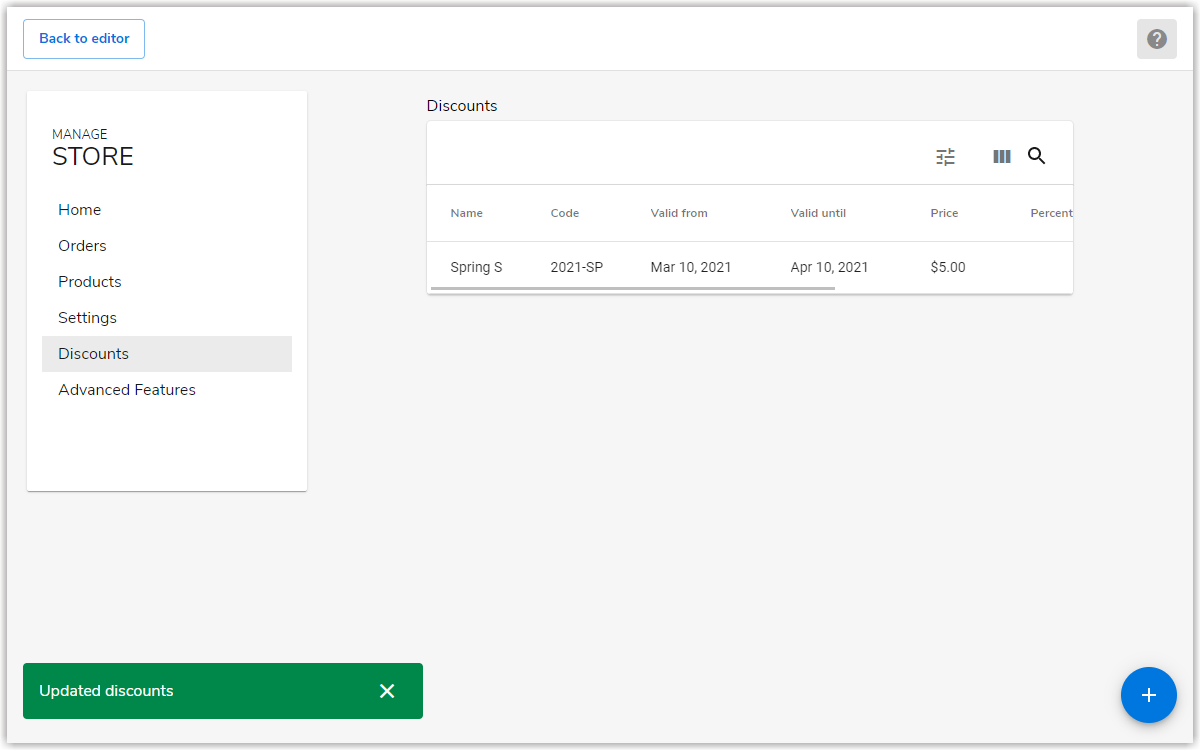 Pro Tip:
Customers who walk through the
Store Checkout
 will be able to utilize multiple discounts such as a 
Free Shipping 
offer combined with a 
Total Amount Discount. 
Similar discount codes cannot be stacked or combined. (Ex: If you have given a customer a $1 off code and a $2 off code, only one will reflect in the total. However, you could offer customers a
% or $  discount
combined with a
Free shipping
discount,
and they both should reflect at checkout.