Creating or Removing Scheduled Tasks in Plesk
---
Some scripts/applications require certain scripts to be run at a certain time to function properly. On Windows servers, you can set them up to run at certain times by creating a scheduled task (which is similar to running cron jobs on Linux servers).
 
Different versions of Plesk may have slightly different appearances, but the steps, buttons, and icons are the same.
---
Creating a Scheduled Task in Plesk:
You can set up Scheduled Tasks in Plesk by doing the following:
1) Log in to Plesk.
2) Click on Scheduled Tasks in the upper right corner.


3) Click on the Add Task button.


4) Determine the appropriate type:
Run a command - Specify the full path to the executable file to be run. This includes binary files, shell scripts, and batch files.
Fetch a URL - Send a request (cURL) to a specific URL.
Run a PHP script - Specify the path to the script relative to your virtual host directory. PHP version can be specified.
5) Set/frequency-time task should run
6) Add a Description of the task. (Optional)
7) Select notification preference
8) Click OK to schedule the task or click Run Now to schedule the task and immediately run it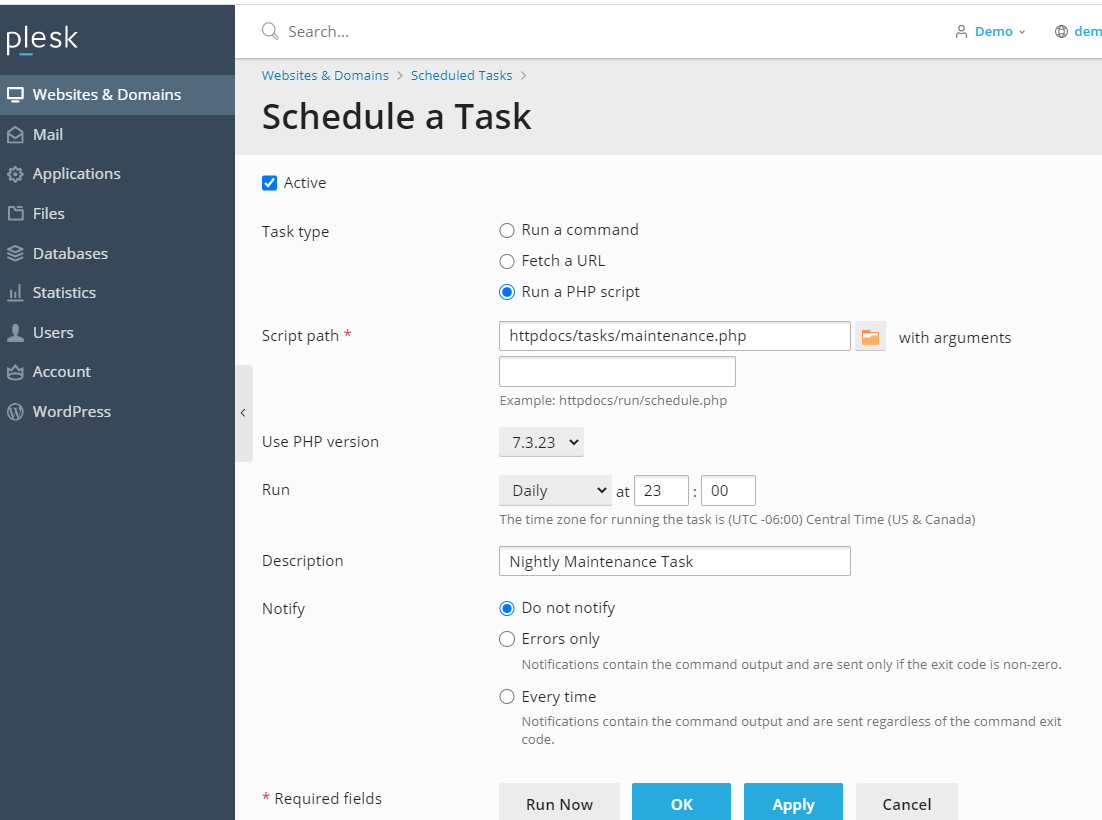 Removing a Scheduled Task in Plesk
Log in to Plesk.
Click on Scheduled Tasks in the upper right corner.
Select the name of the task that you would like to remove.
Click on the Remove button.

It will load a new page and ask if you really want to delete it. Check the Confirm Removal box and click on the OK button.
You will be taken back to the Scheduled Tasks screen, and it should say: "Information: Scheduled tasks were removed."
Notes
The user you are logging in with should have enough permissions to create a scheduled task. Windows Shared customers automatically have permission, and the Admin user for Windows Dedicated Servers automatically has permission. Additional users created by the Admin on a Windows Dedicated Server may or may not have permission to set up scheduled tasks, depending on what permissions you give them.