Creating or Editing a Type Style in BaseKit
As of June 19, 2013, BaseKit is unavailable on new Shared (SW) accounts; however, WordPress is an excellent alternative to this builder. The instructions on how to install WordPress are discussed in the article:
How to Install WordPress With Softaculous
.
---
In BaseKit you can create a new type style to define the appearance of one or more text blocks.
Adding a New Type Style
It's very simple to add a new style in Basekit. Just follow the steps below:
Select any text widget.
Click the gear icon to begin editing.

From the toolbar that appears, select the Styles dropdown.

At the top of the dropdown list, select Add new type style.
Fill in the dialog box that appears:

Title - the name of your new style as it will appear in the styles menu
Clone Class - the basis for the class you will be creating
Element - the type of HTML element that will be inserted
Class Name - the name of the class as it will appear in the HTML code
Element and Class name should not normally need to be changed. Unless you understand enough about CSS to know what these terms mean, you should leave them alone.
Click Add Style to create the new style.
Editing a Type Style
To edit a type style in BaseKit:
Select any text widget.
Click on the gear icon to begin editing.
Click Styles to access the styles drop-down list.
Hover over the style you wish to edit.

Click the Edit button to bring up the style editor at the bottom of the screen.

Here you can define various different styles for your text.

Font type

Theme-based styles
Custom created font styles (custom tab)

Background for your text
Text spacing
Borders
Shadows
Visual FX
If you use the Shadows and Visual FX options, your type style may not display correctly in older browsers like Internet Explorer 6 & 7. This is an inherent limitation of obsolete browser technology and is not a fault with BaseKit.
When you have finished editing your text style, click Save Changes to finalize your edits.
You may now use your new style anywhere in the web site by selecting it from the styles drop-down menu.
Deleting a Type Style
You can also remove a style if you do not intend to use it in your document again. To do so, simply edit the style and click the Delete button to the right of the options in the drawer at the bottom of the screen.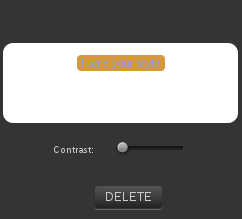 To learn more about how to work with text in BaseKit, please read: