Create a New Page in BaseKit
As of June 19, 2013, BaseKit is not available on new Shared accounts; however,
HostGator Website Builder
is offered as a replacement.
---
Creating a new page for your BaseKit website is easy. Once you have logged in to BaseKit:
Hover your mouse over the Add menu on the toolbar in the upper left corner of the design interface.

From the drop-down menu, select Create Page. This will present you with the Create Page popup window.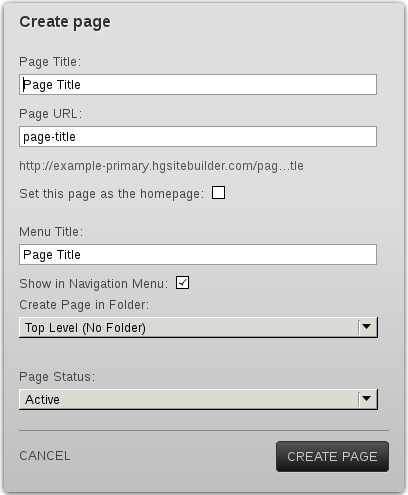 From this dialog box you can customize the way your new page will work:

Page Title - the title of your page as it appears in the browser of your visitors
Page URL - this is the way the page title appears in your website's URL
Set this page as the homepage - checking this option will make the page you are creating the default page for your website
Menu Title - the title of the page as it appears in your navigation menus.
Show in Navigation Menu - by checking this option, this new page will be displayed in the default navigation widget.
Create Page in Folder - if you have created a folder, you can have this page created in another folder
Page Status - choose whether this page is available in the published version of your site

Click Create Page.