Contacts CRM
When customers come to your website and fill out your contact form created within the editor or place an order through your eCommerce store, those contacts will now be saved within their own section from your
Main Account Dashboard
. This means you can now quickly review, respond, and manage these contacts from one dedicated location.
  This article will cover how to access and manage the contacts from your 
Contacts CRM
 within your WebsiteBuilder account. For help with adding a form to your website, check out this article:
Add A Signup Form
---
To Access the Contacts List:
Log in to your Gator account and select Contacts CRM in the left-hand menu.

A new screen will appear where you may see one of the following displays:

A. The default page for new accounts or accounts with no contacts to populate yet.


B. Your contacts list will begin to automatically populate with the information from your account's contact form and subscription submissions, and eCommerce store orders. The Contact CRM will appear blank until you receive either an order or form submission. To manually add a contact check out our article: How to Add Contacts to an Account

      Once complete, this area will contain:
A card for each contact received from your site showing an email address, and if provided, name and source of where they contacted from originally.

Any new submissions or orders going forward.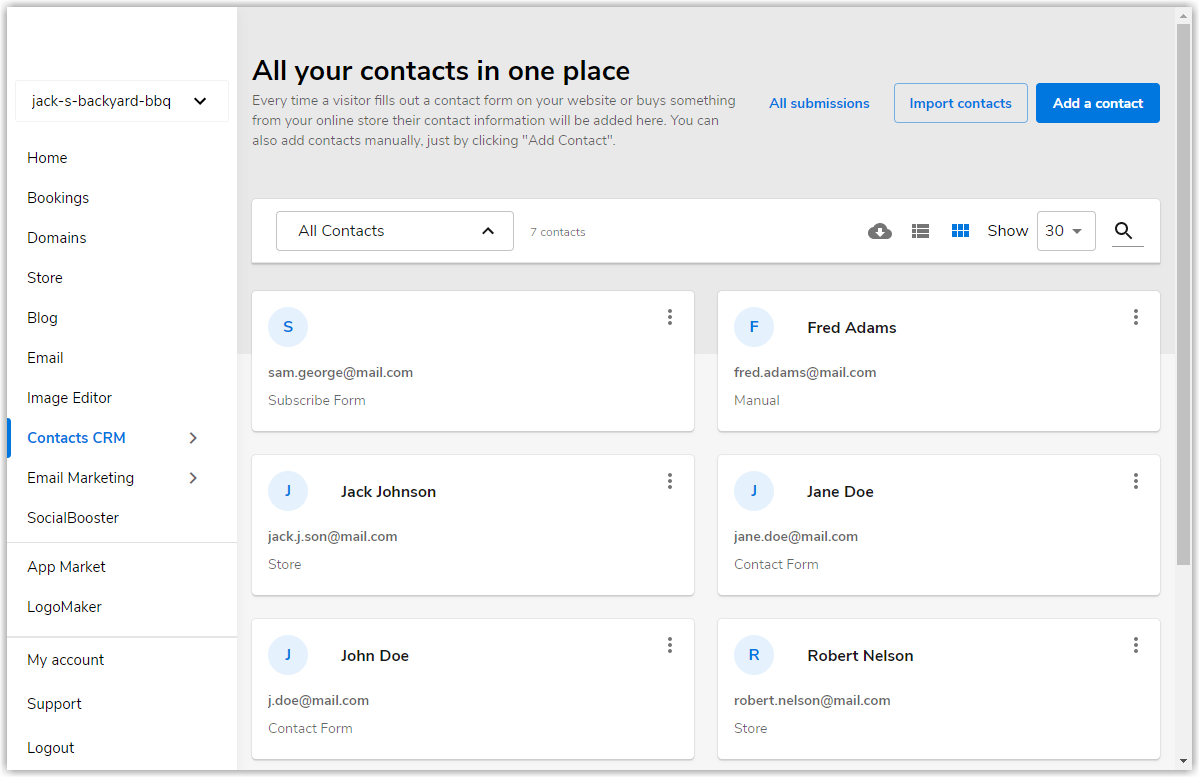 Contact Details
If you choose any of your contacts from within your Contacts CRM you will be able to edit or view information about the selected contact, ranging from their details to labels, orders, and activity through your website. Below we will outline the various parts of contact information that you will see in the Contact Details tab.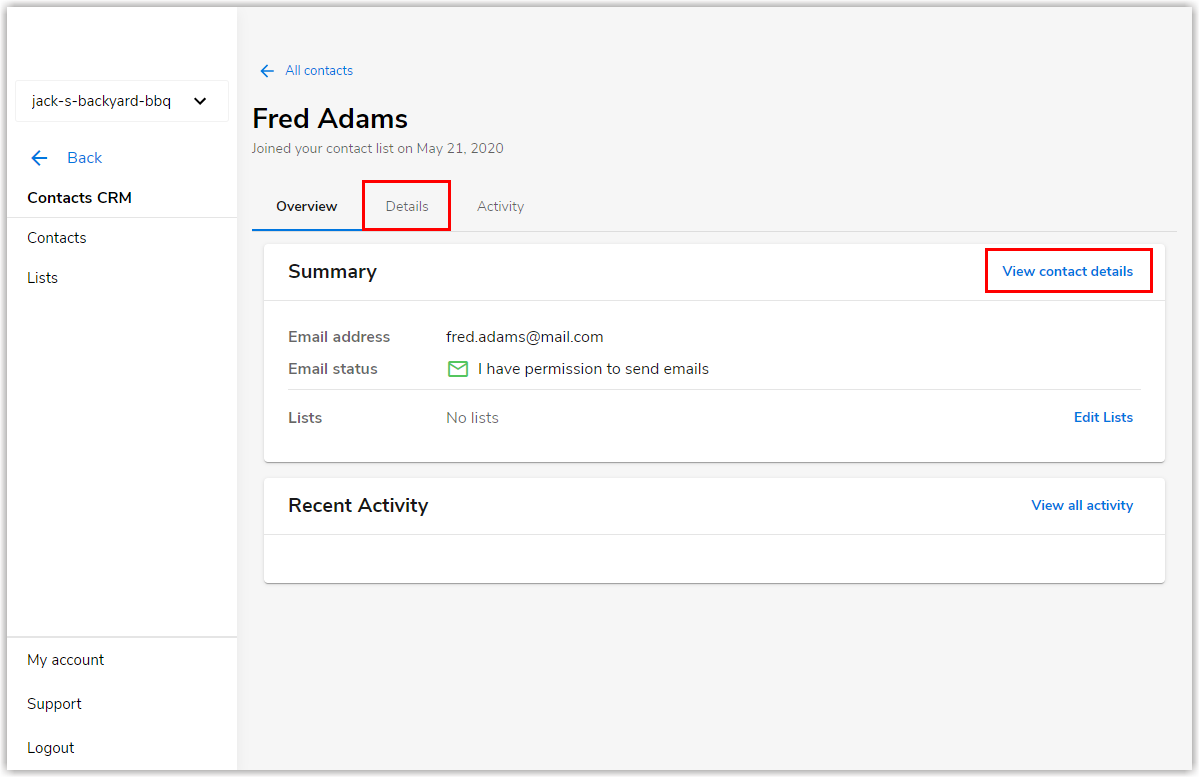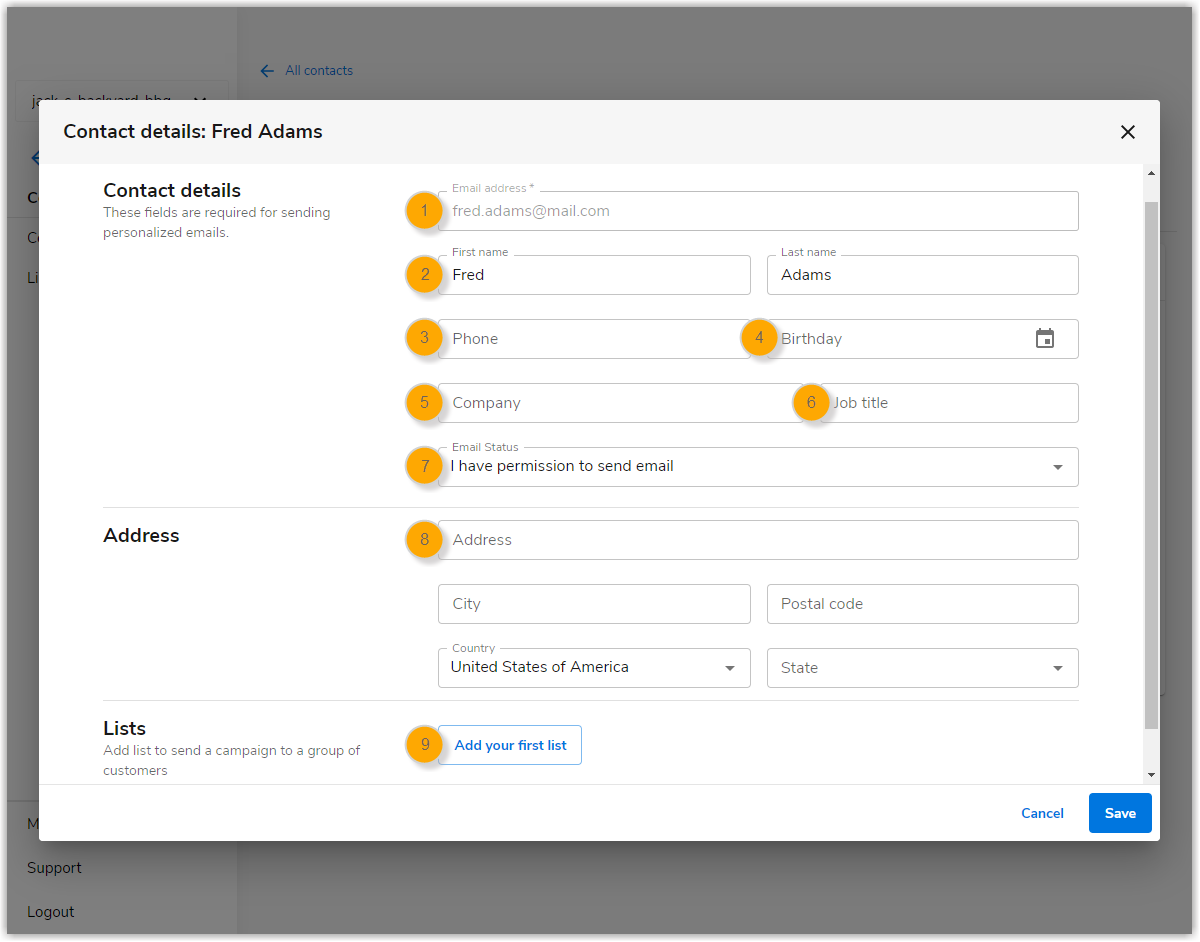 Email Address
This information cannot be changed or edited since it acts as the key of information to which the system will tie future contacts. If there is a spelling error, the contact can be manually added or resubmitted through the website.
Contacts Notifications
First and Last name
Phone number
Birthday
Company
Job title
Email Status

This is used to keep track of who you have permission to send email marketing to. Users can unsubscribe from your mailing list, website, or by contacting you directly. Read more about who you can and cannot send to here: Permission Policy for Email Marketing

Address
Lists

Lists are used to add distinction to those in your contacts CRM. If you are interested in more information, check out our article: Creating Lists for your Contacts
When a customer opts in to subscribe from any of your channels from your website not only are they added to your Contacts CRM, but you will also receive an automatic email to the account or form notification email on file so you can stay up to date with new contacts and the source of their subscription.