Changing your Background in BaseKit
As of June 19, 2013, BaseKit is unavailable on new Shared (SW) accounts; however, WordPress is an excellent alternative to this builder. The instructions on how to install WordPress are discussed in the article:
How to Install WordPress With Softaculous
.
---
The background, or formatting of your background color and style is a very important aspect of website design. With BaseKit, you are easily able to make this change to your liking in just a few clicks.
To get started with changing your background, log into BaseKit and click the Background icon on the home page, near the top. You will get a drop down menu that looks like the image pictured here.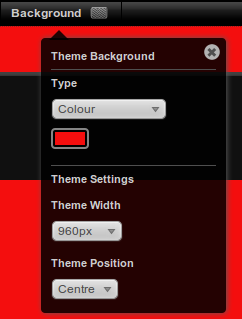 Under Theme Background you will see options for your background type and theme settings.
Type
Color - Allows you to set a specific color for your background.
Image - Allows you to set a specific background for your site.
Flex - Inserts the same image, multiple times as a background for your site.
Linear Gradient - Allows you to blend two colors that fade into one another.
Fullscreen - Makes the image you select a full screen background image.
Additionally you will see two options underneath Theme Settings: Theme Width, and Theme Position. These settings will allow you to set the position, and width parameters (in pixels) of your theme for your site. This is helpful if you like the theme you are using, but want to tweak the shaping and design that displays on your site.