BaseKit Site Search Bar
As of June 19, 2013, BaseKit is not available on new Shared accounts; however,
HostGator Website Builder
is offered as a replacement.
The site search widget makes it easy for people to quickly search your site for specific content or pages, without having to click links or worry about not being able to find something. BaseKit allows you to easily add this search bar feature to your site, and customize it to your liking.
To add the site search bar to your website select "Content" under the "Widgets" option on the left side navigation bar and drag and drop the Site Search Widget onto your page. You should see the following widget on your page: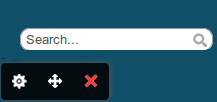 Note: It may look different based on the theme you have selected.
Once the widget has been placed on your page, you will be able to edit the search bar to your liking. Simply click the widget on your page to bring up the three option icons, which will allow you to edit the default text that appears, as well as move and resize the text bar by using the move icon or the resize bars surrounding the widget.