BaseKit Navigation Panel
As of June 19, 2013, BaseKit is not available on new Shared accounts; however,
HostGator Website Builder
is offered as a replacement.
One of BaseKit's more innovative features is the Navigation panel, which allows you to create a customized navigation panel, such as the links to each page in a menu on each page. This is especially handy if you have more than one folder of pages, and allows for more features, such as orientation, layout and design of your links.
Instructions
To activate the Navigation panel in Basekit
Log in to BaseKit
Select "Content" under the "Widgets" section in the navigation bar on the left side. Once, selected, drag and drop the widget into your page.
Select the widget on the screen with your left mouse button, and select the gear icon in the black pop up box to edit the settings for your menu shown here: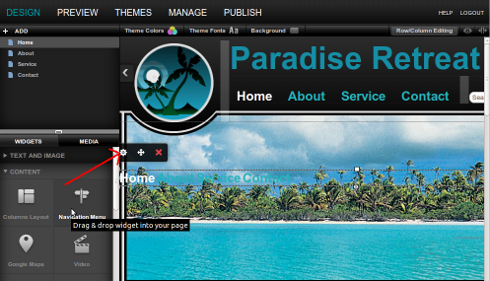 Once you select the Settings, you will see another pop up window allowing you to edit your Navigation panel. It should look like the figure below:

Success! You are now able to edit the menu that appears on each page. You are able to select the color, padding, as well as the