BaseKit Embed Widget
As of June 19, 2013, BaseKit is unavailable on new Shared (SW) accounts; however, WordPress is an excellent alternative to this builder. The instructions on how to install WordPress are discussed in the article:
How to Install WordPress With Softaculous
.
---
One more unique and useful tool BaseKit offers is the Embed widget. With this feature, you are easily able to insert a script or additional tools to your sites, such as Google AdSense or your Facebook badge. Additionally, you can input third-party Javascript widgets, including <iframe>.
Note: Pasting incorrect or broken scripts or coding into the Embed widget may damage your site. The widget was designed primarily with Javascript and was written specifically for third-party sites. Such code begins typically and ends with <script></script>
To embed a script on your BaseKit site:
Log in to BaseKit
Select Widgets from the left-hand navigation menu
Drag and drop the Embed widget onto your page

You can configure the widget's coding and style (CSS) by clicking the Configuration icon on the left of the widget control panel. Alternatively, you can double-click the widget to access the settings for your script.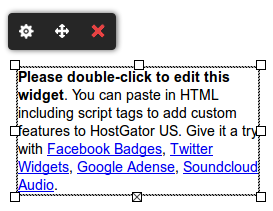 Note: The use of third-party scripts or applications that have improperly coded parameters or outdated syntax can cause your BaseKit to stop responding or can cause your site to stop functioning completely, in which case we may need to reset your BaseKit account.

HostGator does not support third-party scripting, nor do we provide any services regarding script development. It is strongly recommended that you contact a professional developer to ensure your script is valid. The use of scripts is at your own risk.