Adding Links to Text
Linking between pages will make it easier for a visitor to navigate your website, improving your search engine optimization. You can also link to external sources and documents, making it easier to communicate with your customers.
This article will discuss
How to Create Links
 and
How to Add the Link to Text
.
Keeping your site visitors engaged is essential to boosting your SEO and achieving the goals you set for yourself online. To do so, it is often recommended to have links connecting different pages of your website together with different kinds of content. This means pages can and should link to each other when appropriate. If you're not already familiar, a link is a bit of text, an image, or a button that takes you to another page, section, or external website when clicked.
---
How to Create a Link:
The first step to creating a link is to copy down the URL for the destination of the link. A URL is a Uniform Resource Locator or web address and can be obtained from your search bar or address bar at the top of your browser when visiting the destination. 

If you've already read our article Adding a Hyperlink to an Element you will have learned how to link pages using tools in your editor. You also learned how to link documents, your email address, and your phone number. 
We will cover the universal method of linking by URL for this example.

Pro Tip: If the link you are trying to create is to your current unpublished HostGator website the URL will not show up in the address bar for the published site. Your URL will be http://www. + your domain + /Page-Name.
Example:
If your domain is coolwebsite.com - And, you make a page called About Us, your URL for that page will be: https://www.coolwebsite.com/About-Us
If your domain is coolwebsite.com - And, you want to link people to your HOME page, the URL you will need is: https://www.coolwebsite.com/HOME
---
Linking Text to your URL:
Once you have the URL, you can link text to another page or website by highlighting any word or words in the text body then selecting the Attach Link icon in the toolbar.

This will open the Attach Link window with the following options:

No Link
Website Page
URL
Email
Phone
Document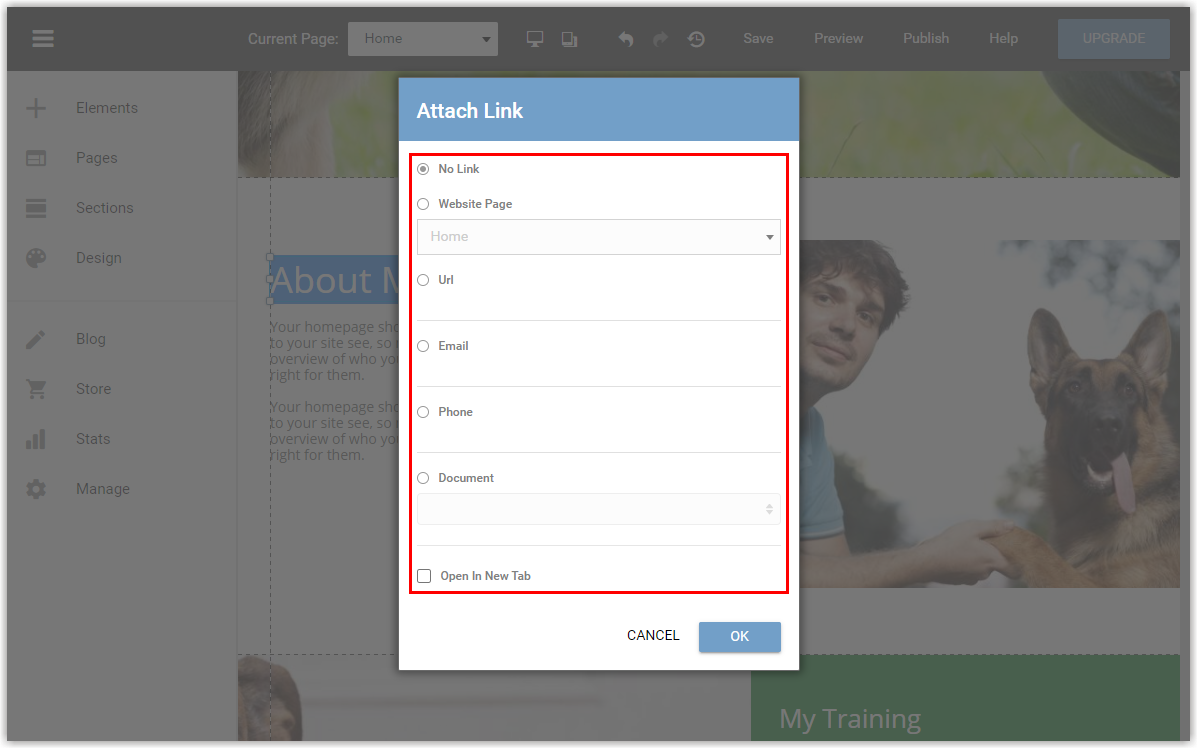 To read more about these options, visit
Adding a Hyperlink to an Element
.
Click on the URL button.

Type in or paste the URL from the first step.

Click Okay.

Be sure to Save and Publish to make your changes live.

Pro Tip: One important aspect of SEO is backlinking. Backlinking is basically when any website links to another website. Doing this can give your site a reputation that can be tracked and used to rank you higher in search engines rather than other sites that may not be recommended or have the best content.