Adding a YouTube Video in Weebly
The YouTube Video element in Weebly allows you to embed YouTube videos on your web page. This element can be found in the Multimedia section of the Build sidebar.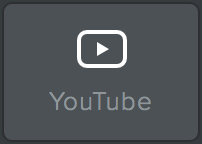 Adding a YouTube Video
To add a YouTube video to your page:
Drag and drop the YouTube Video element anywhere on your page.
Click anywhere in the element to bring up the popup.

From YouTube, click the Share button beneath the YouTube video, and copy the direct link for the video. No other link will work, so be sure to use the one found here.

Paste the direct link into the Video URL field of the popup, and your video should show up on your page in less than a minute.

If your video does not show, please ensure that you are copying the correct link. Do not copy the embed code.
Once your video appears, you can determine the padding of the video player and how you want to position it on the page.
Advanced Options
There are a few advanced options available for YouTube videos.
Configure the size of the video
Alternatively, specify the YouTube ID directly rather than using the URL