Adding a Comments Feature to your Page in BaseKit
As of June 19, 2013, BaseKit is unavailable on new Shared (SW) accounts; however, WordPress is an excellent alternative to this builder. The instructions on how to install WordPress are discussed in the article:
How to Install WordPress With Softaculous
.
---
In BaseKit, you can add a section where visitors to your site can comment on your page. You can add a comments section. The comments widget located in BaseKit allows you to drag and drop a comments section to any page, to allow your users to easily and securely post comments regarding your site.
Adding a Comments Section:
To add a comments section to your page in BaseKit:
Log in to BaseKit
On the left side menu, select Widgets, and select the Content option.
Find the Comments icon and drag and drop it onto your page.
From there, a pop up window for SEO settings will appear. The first text box you will see is specific for your keywords. You should make the keywords for each page unique, and specific for that page. You can have as many keywords as you wish.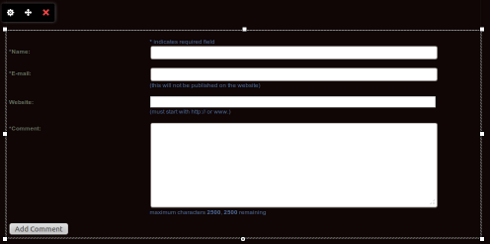 You can configure how many characters can be posted at one time, as well as the style and format of your comments section by selecting the widget on your page and clicking on the Configure icon on the left side of the Comments widget.
After you add the comments widget to your page and visitors post comments, you can manage your comments by clicking on Manage at the top of the home page in BaseKit.
---
BaseKit Getting Started Guide
---