Add Media and Files in BaseKit
As of June 19, 2013, BaseKit is unavailable on new Shared (SW) accounts; however, WordPress is an excellent alternative to this builder. The instructions on how to install WordPress are discussed in the article:
How to Install WordPress With Softaculous
.
---
Part 14 of 14 of the BaseKit Getting Started Guide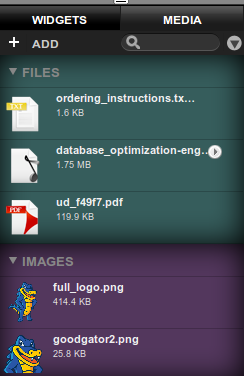 To add media to your site, click the Media tab in the left Design bar, next to the Widgets tab.
Add Media
To add media from your local computer, click the "+" link to choose what files you'd like to add. BaseKit will upload this to your Media Center and it will display in a list below the add link. You can search these files with the search function (that's the field with the magnifying glass) or you can scroll through the files. They are organized in two groups: files and images.
Files
Files can be dragged and dropped anywhere on your site and will display as a link to download the file. You can change the file description by editing the text, or click the gear to set the site-wide styles for File Names and File Descriptions.
Images
If you drag and drop an image, you will add it to your site. Once added, you can edit it like any other image.
---
BaseKit Getting Started Guide
---