Add Custom HTML to Your Weebly Website
The Custom HTML element is the most versatile element in Weebly, though it can be somewhat complicated as it requires you to either know HTML code or have code provided by another service, such as YouTube.
This element can be found under Basic (left-hand menu) section of the Build sidebar. Drag the element to a page to get started.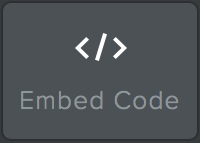 How to Use Custom HTML
The best way to learn how to use the Custom HTML element is to see it in action. In this case, we'll demonstrate the usage of the element by showing you how to embed a YouTube video.
Click on the Custom HTML element to bring up the popup.

Obtain the embed code for your content from the site where it is hosted. The embed code button can usually be found on or near the content you would like to share.
Then click Edit Custom HTML in the popup.
Paste the embed code into the element.
Click outside of the element, and your content should appear!
Note: In some instances, the content you've embedded may not appear on your site until the changes have been published. So if your video, form or other content does not appear in the editor, try publishing to see if it shows on the live site.
Common Uses for Custom HTML
There are a number of possibilities for custom HTML on your page, though typically, you will want to use the Custom HTML element for embedding third-party content such as:
Videos from a service such as Vimeo or YouTube
Google Maps when the Maps element doesn't meet your needs
A Twitter feed
Custom social media buttons from your favorite social site
Writing Custom HTML (Advanced)
If you have the technical knowledge, it is also possible to write your own HTML code in the  Custom HTML element. It will appear on the page with the rest of your content; however, it should be noted that Custom HTML does not preserve any of the CSS styles applied to the rest of your page.
Note: The use of third-party scripts or applications that have improperly coded parameters or outdated syntax can cause Weebly to stop responding or can cause your site to stop functioning completely. This could potentially cause data loss and/or file corruption.
HostGator does not support third-party scripting, nor do we provide any services regarding script development. It is not recommended that you attempt custom coding if you are not familiar with HTML and CSS. If you need assistance with coding on your website, it is recommended that you seek the help of a professional developer. Alternatively, you can also visit
W3 Schools
as a reference to assist in coding.