Add a Flickr Slideshow in Weebly
You can add a Flickr slideshow to your Weebly website. This can make it easier to create a slideshow as it will not require you to upload additional photos and it can be easily configured. To get started, drag the Flickr Slideshow element to your page.

Configuring the Slideshow
Once the element has been added to your page, you will need to configure it to display your content.
Click on the element to display the element toolbar below the main Weebly toolbar.

Enter your Flickr email address in the
Advanced Configuration
There are also several advanced configuration options available. These options can be used to configure the element to blend with your page design better.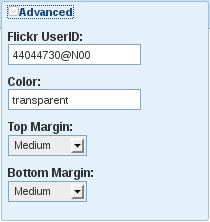 In the Flickr UserID field you may configure your user ID if you wish to use this instead of your email address.
You may enter several color names in the Color field.

You can only enter color names. Color hex values or RGB values will produce a black and white background color respectively. 

The top and bottom margins may also be adjusted to configure the amount of padding at the top and bottom of the element.