When you want to create a new website you're going to have a lot of different options. You have your choice of different content management systems (CMS), website builders, and more.
One of the more unique and powerful combinations is using the WordPress CMS, plus a website builder like Elementor. This gives you the best of both worlds where you have the content management power of WordPress, with the customization ability of a drag and drop website builder.
If you're not sure if Elementor is the right drag and drop page builder for your needs, then this post is for you.
Below you'll learn the ins and outs of the Elementor plugin, the additional features it adds to WordPress, the pros and cons of using the plugin, and finally, you'll learn how to use the plugin on your WordPress site.
You might like…
What is Elementor?
Put simply, Elementor is a WordPress page builder plugin. Page builder functionality allows you to control nearly every visual aspect of your website, along with creating custom layouts, designs, and pages.
Elementor isn't itself an actual theme, but instead pairs with virtually any existing WordPress theme. Then you'll use the plugin to customize your existing pages, add new widgets and design options to your site, and more.
It's equipped with a variety of different widgets and pre-built content layouts. So, you don't have to build your site from scratch. Instead, you're utilizing pre-crafted site elements that have been built by professionals.
Plus, the plugin uses drag and drop functionality when you're building out your site. This makes it very easy and intuitive to accomplish design tasks. Just select, drag, and drop, until you finish building your entire site.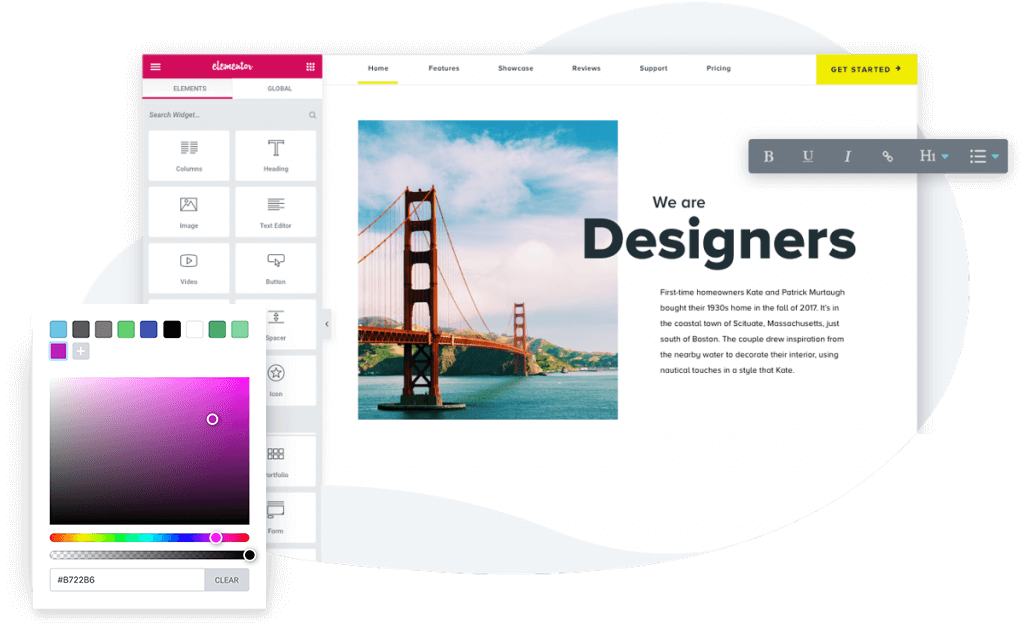 Free vs. Pro: What's the Difference?
Like most WordPress plugins, you'll find a free and premium version. This allows you to start small and upgrade for a fee if you demand a larger feature set.
The free version of the Elementor plugin has a lot more features than most premium plugins. Still, there are some good reasons you might want to upgrade to Elementor Pro.
First, the premium version has additional features that make it much easier to create your workflow. This is useful for developers and designers who are building client websites, as you can build entire themes.
You also get access to a larger widget library, 24/7 support, dynamic content blocks, integrations, and more.
The free version is probably more than enough for those building their first sites. But, if you require more advanced features and site functionality, you might want to consider upgrading down the road.
Elementor vs. Gutenberg Editor: Which is Better?
The newly released Gutenberg block editor is native to all sites running the latest version of WordPress. This updated visual editor uses a block system to help you visually build out pages and create unique content.
So yes, the addition of the WordPress Gutenberg editor does provide features that used to only be available by installing a plugin like Elementor. But, it's still not as robust as other WordPress page builder plugins are today.
Here's a quick breakdown of the feature sets each provides:
Gutenberg block editor:
Use the drag and drop editor to create custom pages and posts
Choose from the 25+ different content blocks, things like images, video, text, buttons, tables, and more
Easily rearrange and insert new blocks with the drag and drop editor
Choose from a list of customization options for each content block
Elementor plugin:
Over 30 different content widgets to choose from
A massive library of customization options for each element
The ability to create complex layouts with multiple forms of content
Advanced content features like, image carousels, maps, and more
Control over site elements like spacing, padding, and margins
Design control over things beyond content, like header and footer sections
So, which editor should you use to build your WordPress site? There is no cut and dry answer. It's ultimately based on your preferences and what you want to accomplish with your site.
If you're already using Elementor to build out your site, then you'll probably want to keep using it. Deciding to switch editing tools can mess up any layouts and functionality you've already created.
However, if you're trying to choose between the two, the native WordPress editor is a great place to start since it's very simple and easy to use and is already built-in. If you enjoy using Gutenberg to build out your site, you can always upgrade to using Elementor for more flexibility and features. It all depends how much customization you require to your existing site.
Do You Need to Use Elementor to Build a WordPress Site?
You don't have to use Elementor to build out your site. A lot of WordPress users prefer to use the customization options that come native with most themes.
Most standard WordPress themes will have a set of design and customization tweaks. This includes things like uploading your logo, changing fonts, and colors, and more.
You'll also be able to customize the appearance by widgetized sections that your theme is equipped with.
You'll be able to change the appearance of your site but only to a certain point. This is why you typically want to choose a WordPress theme that has a demo version you want your site to look like.
Elementor is best for people who want complete control over the appearance of their sites. Or, once you've reached the customization limits of your existing WordPress theme and you want to take things even further.
Pros and Cons of Using a Page Builder Plugin Like Elementor
There are a handful of different WordPress page builders you can use to build out your site. They're not perfect for every user, but there are some specific advantages, as well as a few drawbacks.
Here are some of the biggest advantages and disadvantages that Elementor has.
Pros of Elementor
It's a free plugin! Most users can fully build out their sites without having to upgrade to the pro version.
For a free plugin, it has a very wide range of features. The feature set on the free version rivals a lot of paid plugins.
The real-time editor allows you to make changes to your site and see what's happening in real-time, so you don't have to keep going back and forth between multiple screens.
You can edit and view multiple versions of your site, desktop, mobile, and tablet, and make unique changes to each of these versions.
The level of control you get over your site is incredibly detailed and gives you the ability to adjust things like spacing and padding.
Cons of Elementor:
Elementor is a powerful editor, but with all the flexibility and customization options, it can be hard to get everything right.
Sometimes your pages might have layers of different content overlays and it can be difficult and time-consuming to find the area you want to edit.
Since you have complete creative control, you might spend too much time obsessing over the small details, instead of moving on to more important things.
Although it's intuitive to use, the sheer volume of features and customization options available with Elementor make it so you'll need to invest time into learning how the plugin works.
If you build your site using Elementor, you'll need to keep the plugin installed, otherwise you'll lose all your designs and customizations you've made.
How to Use Elementor With a WordPress Theme
If you want to use Elementor on your site, then this section is for you. Below we'll walk you through installing and setting up the plugin, and help you grasp some of the basics.
Since Elementor is a WordPress plugin it's very easy to get up and running. All you need to get started is WordPress installed on your site and a basic theme up and running. Elementor is compatible with a ton of different themes. But, some themes work better than others.
Once you've found a suitable theme, then let's get busy building your site!
1. Install the Elementor Plugin
To install the plugin you'll need to be logged into your WordPress dashboard.
Then navigate to Plugins>Add New, and search for the Elementor plugin.
Next, click 'Install Now' and 'Activate' on the plugin called Elementor Page Builder.
You'll now have a tab on the left-hand side of your WordPress dashboard called 'Elementor'.
2. Elementor Settings Menu
The power of Elementor is unlocked on your posts and pages. But, you also still might want to explore the settings menu.
To open up the general settings menu click on Elementor>Settings.
Here you'll be able to select which posts type you want to be able to edit with the plugin, set the font spacing, set color defaults, and adjust responsiveness settings too.
Another tab you might want to check out (directly below Settings) is the role Manager. This section will allow you to specify which users you want to be able to use Elementor to edit your site.
3. Build a Page in Elementor
Now it's time to build your first page in Elementor. Navigate to Pages>Add New, then click on 'Edit with Elementor' to enable the page builder. Once this opens you'll see a page that's similar to the one below.
There are three main building blocks on Elementor: sections, columns, and widgets:
Sections are the highest level and are containers for columns and widgets.
Columns are individual sections that contain widgets.
Widgets are individual elements.
To get started click one of the elements on the left and drag it onto your page. This will open up another grouping of options, depending on what element you added.
In the image below we added an Inner Section, then within each of those inner sections, added an Image and a Button. Each of these can be modified depending on the equipped customization options.
If you don't want to build a page from scratch, then you can choose from content blocks and entire pages that have already been created. To access these, click on any of the white folder icons.
Then select 'Blocks' to insert a content block that's already been created:
Or, select 'Pages' to insert a pre-built page into your site.
Most users will probably prefer to use pre-built content blocks and pages, as it can speed up the site-building process, but you can also use Elementor to create pages completely from scratch.
Once you're done editing your page, just click the green 'Publish' button at the bottom of the screen.
4. Elementor Customization Options
Whenever you're editing a page in Elementor there are three different content categories you'll get access to. With the free version, you get access to the Basic content sections.
Here's a list of some of the most widely used basic widgets:
Heading
Text
Video
Button
Maps
Icon
Star rating
Testimonial
Social icons
Sidebar
Altogether there are 30 different elements you'll get access to with the free version of the plugin. If you want even more widgets, then you'll need to upgrade to the pro version.
However, you can accomplish a lot with a free plugin. You can even mimic some of the Elementor Pro elements, it'll just take you longer to create.
It's also important to note that other third-party WordPress plugins still work and integrate with a site built using Elementor. So, you don't have to rely on Elementor for 100% of your site's visual customizations.
In Closing: Moving Forward with Elementor
Hopefully, you're starting to see the power of what Elementor can do for your and your WordPress website. If you want complete control over the design of your website, then Elementor can give that to you, even while using the free version of the plugin.
This guide is meant to just get you started using Elementor. There's a lot more you can accomplish as well, like creating reusable page templates, and even customizing WooCommerce product pages (if you're starting your eCommerce store).
Overall, Elementor is one of the best WordPress page builders that make it easy to build your website in the drag and drop fashion. It offers a great balance between being easy to use and still providing a deep level of features.